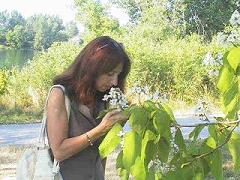 Contact us at (647) 223-2540, or by email at ccawaken@ca.inter.net, or www.energyawakening.com
Call or send email to set an appointment (in person, by phone or Skype). Monday to Saturday 10am – 4pm
Catherine Allon, BSc., MEd., also known as Shanti Devi, is a pioneering thinker and innovator, a spiritual counsellor, a facilitator of the Radical Awakening Process, a Kundalini Yoga teacher, a life coach, a devoted mother, and a joyful grandmother.
Catherine has lived several lifetimes in this one. Her initial experiences while seeing the Russian tanks role in, as a child of Hungarian parents, during the Hungarian Revolution of '56, started her on a quest for Peace on Earth.
It is this quest that has taken her on a career of over 30 years of joyful endeavours and volunteering in the service of families, children and needy people in both the public and the private sectors. It is this search for Peace, that took her to High Park for over 7 years, since the 1990's, organizing Peace Festivals and bringing awareness to encourage many to work, play and live together as ONE. This is her dream: that we love each other as children of All That Is.